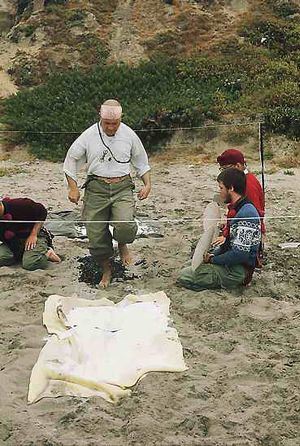 Dr. "Ajari" Warwick, Arthur Russell, and members of the Kailas Shugendo commune fire-walking to mantric chant in San Francisco, 1969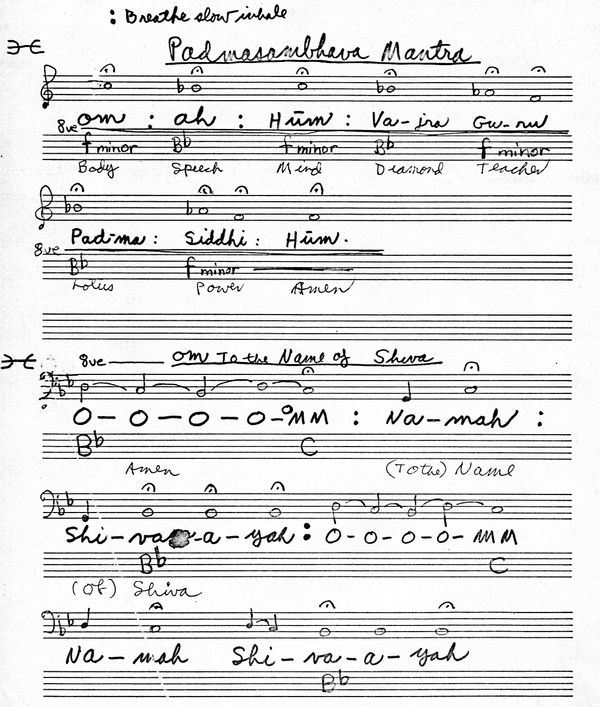 Padmasambhava Mantra, Allen Ginsberg with Arthur Russell and Kailas Shugendo Mantric Sun Band, early 1970
Pitchfork recently gave some attention to Arthur's relationship to Buddhism, mentioning my dissertation, Buddhist Bubblegum, in the closing paragraph. Arthur's work is getting a lot renewed attention lately due to the archival exhibition, "Do What I Want," currenly on display at the Brooklyn Academy of Music. The exhibition features documents from Arthur's archives, recently bestowed to the New York Public Library, including scores, personal notebooks, posters, letters, audio, and more. It runs through May 14, 2017, if you're in the area. For Pitchfork, Jen Pelly writes: 
            The scholar Matthew Marble recently used Russell's archives to write an exhaustive 271-page dissertation, Buddhist Bubblegum, centered on the artist's spiritual    
             practice. In its opening pages, Bubblegum mentions Russell's cello teacher Margaret Rowell, with whom he studied at the San Francisco Conservatory. Rowell
             fostered an "emotional relationship" with the instrument and taught through kinesthetics; her tactile approach was not unlike "the visualization and sadhana
             techniques [Arthur] was learning through Vajrayana Buddhism," Marble wrote. One student recalls that in order to get a "pouring tone," she encouraged filling up a
             pitcher; for a painterly one, she instructed the student to pretend to paint a wall. I thought of Arthur's exquisite expressiveness. The exhibition at BAM sparked my
             curiosity and made me want to keep investigating well after I left its walls. Perhaps it is not contained at all.
-- Jen Pelly
"The Buddhist Heart of Arthur Russell's Archives"
Pitchfork • March 10, 2017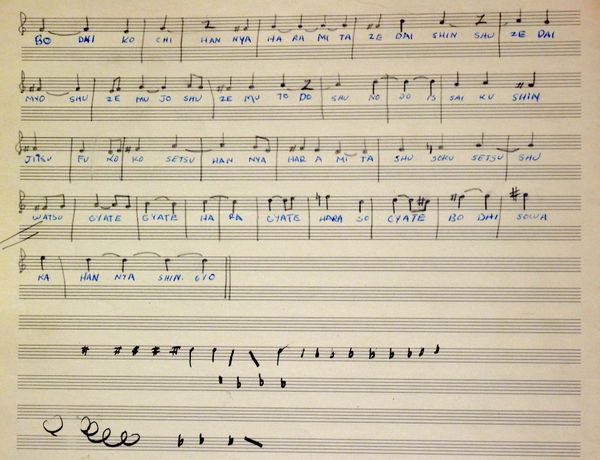 A compositional sketch of a Shingon mantra by Arthur, early-1970's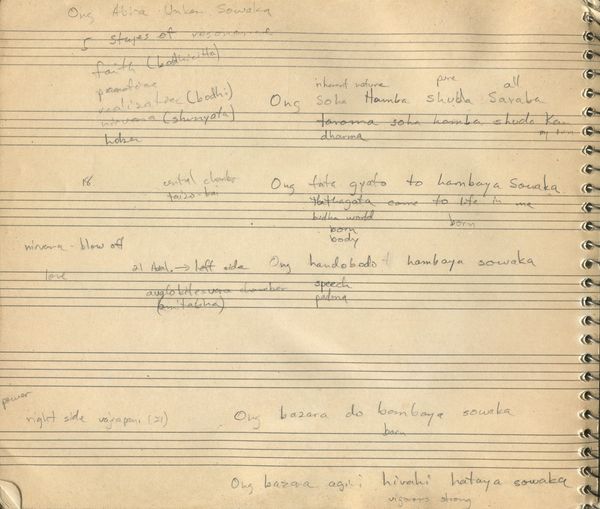 A notebook sketch of Arthur's that outlines the deities and symbolic meanings depicted in a Shingon mandala, mid-1980s.